THIS IS HOW TO SET UP YOUR ART FOR SCREEN PRINTING.
To get things started, we need you to supply your artwork.
If you know your stuff, the best format to get your art to us is as an Adobe Illustrator file, to 100% the size you want it to print, with all fonts outlined, no placed art, and saved as CS8 or newer.
Next best is a 300 dpi file (JPG, PSD, EPS, PDF) to full print size.
If you kinda know your stuff but aren't TOTALLY sure – we outlined the process below to help out.
If you don't know your stuff or even if you do, check out our online designer! Be sure to save your file!
Beyond that…we can custom build your art based on a sketch or any concepts you may have . . . just ask and we will be upfront and honest with what works and won't work.
———————————————————————————
Setting up your art for screen printing from scratch in Adobe Photoshop
1. In Photoshop select FILE > NEW
2. Figure out how big you want your art to be and then enter that info in the dialogue box. If you aren't sure, bust out a ruler and lay it across your chest and figure what width works for you.
Our MAXIMUM size for standard printing is 12 x 13.5 – we can do larger if needed
Fill out the sizing in inches as you need.
Set the DPI to 300 and the color mode to RGB.
Hit OK and that gives you a blank screen to start your design.
​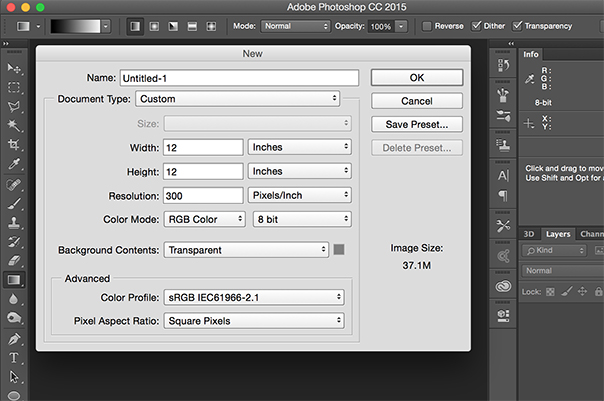 (standard widths are between 8″-11″, large would be 11″-12″, and large format is 12″-13.5″. pocket prints/left chest are 3″-4.5″)
3. Create your masterpiece.
Building on a TRANSPARENT background is a must and it would be awesome if you could use a different layer for each color. Also be mindful of gradients etc. We have some pretty specific specs we need to follow on our end and if gradients are merged on other layers we wont be able to separate them as crisp as the original.
​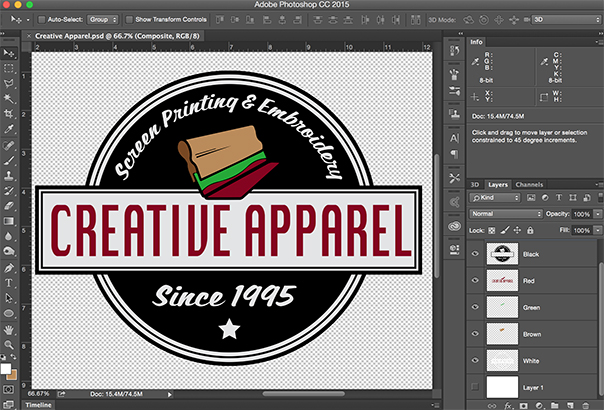 4. When you are done save your file. FILE > SAVE AS –
Your file should be saved as a .PSD
​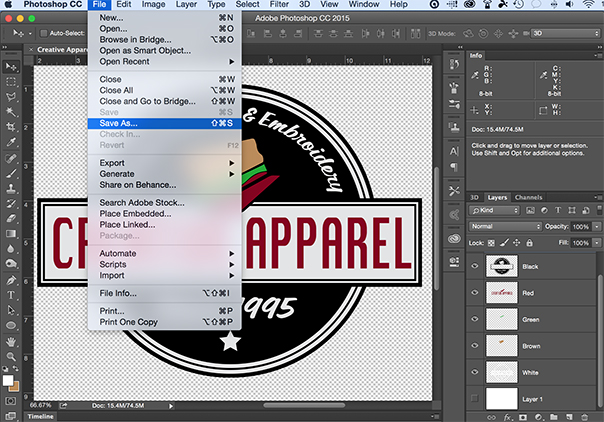 5. Email that file to us: sales@creativeapparel.biz